Visit our award winning Fireplace Showroom in Blackburn
---
Canterbury Fireplaces offer you the finest selection of traditional and contemporary designs in the Blackburn area. As a family run business established over 30 years, we're confident that we can help you turn a house into a home with our 4000 square foot fireplace showroom in Blackburn, boasting a wide range of quality fires, woodburning stoves and fire surrounds, including over 150 working displays.
Call 01254 682574
Mon - Fri: 9am - 5pm
Sat: 10am - 4pm
Sun: Closed
Visiting our showroom is easy
---
Conveniently located near Blackburn town centre and close to public transport links, we also have ample free parking for those visiting us by car. We're open 9am-5pm Monday to Friday and 10am-4pm on Saturdays – drop by and get inspired, there's no need to book an appointment!
Over 150 Displays on Show
---
From stunning stoves to fantastic flueless gas fires, marble, wood and stone surrounds, even beams and shelves, pipes and terminals. With more than 150 live displays including more than 70 electric fires, 30 gas fires and a range of wood burners, making this the largest range of working fire displays in the UK, you really are spoilt for choice at Canterbury Fireplaces.
The Faces of Canterbury
---
Founded over 20 years ago, we have a reputation for quality products and exceptional service. It's been quite the journey; we invite you to take a look at our proud heritage and learn more about our story.
Our Story
Steve & Jackie Everett
Founders
A complete, expert service
---
Our skilful team provides a comprehensive bespoke service, from design to installation. We will use our abundant experience to help you design your ideal fireplace configuration (including tiles and surround etc) and will carefully manage every aspect of your project. Whether you already have your dream fireplace in mind, or are looking for inspiration and advice, a warm welcome awaits for all at Canterbury Fireplaces.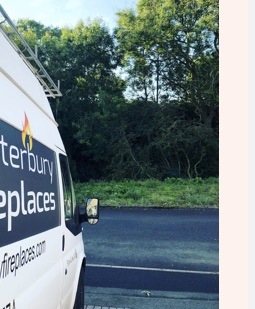 Frequently Asked Questions
---
We're open Monday to Friday from 9am to 5pm, and Saturday from 10am to 4pm.
We are located on Canterbury Street in Blackburn (use BB2 2HP for Sat Nav devices) which is close to the town centre.  We have a large free car park for those travelling by car, but are also close to the local bus and train stations making it easy to visit using public transport too.
Yes, we have ample free parking for our customers
Not at all! We've got specialists on hand all day to talk through your requirements.
Yes, we work with a wide range of retailers to offer a fantastic selection of inset, outset and hole-in-the-wall gas fires.
Yes, we can supply a wide range of electric fires ranging from free-standing stoves to hole-in-the-wall, wall-hung to inset.
Yes, we work with a wide range of companies to be able to supply a comprehensive range of both wood-burning and multi-fuel stoves that meet the highest standards of design and efficiency.  Whether you are looking for something more traditional or contemporary design, we have something to suit all tastes and requirements.
Canterbury Fireplaces has one of the largest showrooms in the North West with over 150 fireplace displays set over two floors. With live displays of electric and gas fires and woodburning stoves, we have something to meet everyone's needs.
There are many situations where a chimney breast is not necessary. Call in, or ring, the showroom to discuss your individual needs.
We offer a full installation service, with both Gas Safe and HETAS registered engineers. Contact the showroom to discuss your individual needs, including any building work that may be required.
Gas Safe replaced CORGI in 2009 to undertake the fitting or servicing of a gas appliance in England, Scotland and Wales.  Any engineer that handles a gas appliance should be suitably qualified and registered with Gas Safe
HETAS is the official body recognised by Government to approve biomass and solid fuel domestic heating appliances, fuels and services, including the registration of competent installers and servicing businesses.
Our stunning selection of electric fires mean that you can have the warming glow effect of a fire without the heat.
Delivery charges are included in our installation prices. For supply-only purchases, local delivery is available at a cost.  Please contact the showroom for more information.
Yes. Gas Safe recommend that all gas appliances are serviced every 12 months, regardless of how often they are used. This not only ensures the safety of your fire but can also extend its life too.
All our Gas safe engineers are fully trained and registered to carry out all aspects of a gas fire service.  Please contact the showroom to book an appointment.
We don't offer any finance facilities, however, we do accept all major credit cards.
The answer to this question is YES. Your fire would need to be a balanced flue as it would need to flue through the back to an external wall or go off the top and out through the roof. There are many options to choose from and they are also highly efficient.
We can safely say the answer is NO. The government recently confirmed in its environmental improvement plan 2023 that it is NOT considering a ban on domestic burning in England. The government is aware that for some households it is their primary source for heating, hot water and cooking. All our wood burning stoves are to Ecodesign regulations and are Defra approved.
We only recommend using kiln dried logs on your stove as these burn much better. We usually suggest a soft wood like silver birch to get your stove going, then swapping over to a harder wood such as oak or beech as these burn much slower.
We recommend that you get your chimney/flue swept once a year.
Yes. We have many suppliers that can accommodate us when we need to get a fireplace made to a special size.
To put a TV above your gas fire you would need a non-combustible beam/shelf in place. These can be made to measure. The distance between the fire and the beam will all depend on the fire and the manufacturers guidelines.
Electric fires vary from 1.5kw to 2kw of heat. Unlike your gas fires, the heat is instant and can warm a room quickly. If you are using your fire for heat for lengthy periods of time, then a gas fire would be more cost efficient.
Already know which fire you like?
If you've already seen your dream fire on our website or elsewhere then don't hesitate to get in touch with us today to book a consultation! Call us on 01254 682574 today!
Book a Consultation