Canterbury Fireplaces was started 30 years ago by Company Director Lucas Everett's father Stephen, in the same year Lucas was born…..
Dad was a stonemason and at the time stone fireplaces were becoming very popular so he was asked to do several of these. He carved the stones himself to create the perfect finish, and people were so pleased with the results they would recommend him to their friends. As the work increased, dad took a chance on buying a huge wagon-load of stone, only half of which turned out to be useable, but through careful selection and carving the rest he was able to produce exactly what his customers wanted.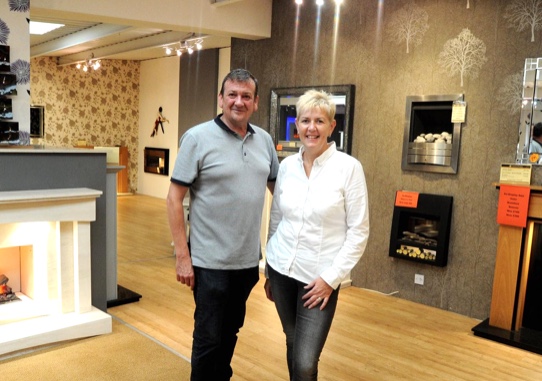 From there, mum and dad worked incredibly hard adapting and expanding the business to provide all kinds of fireplaces. They constantly moved with current trends and new developments in the industry and I think this was the key to their success. They built up a great reputation and a loyal returning customer base. I grew up with the business, always being involved and helping at weekends. I joined the business straight from school at 16 and did an apprenticeship in gas engineering followed by a HETAS qualification for wood-burner installation."
My parents retired two-and-a-half years ago and I'm now running the business in the same way, constantly building up new expertise and adapting to change, as well as adding new ideas of my own. I have invested hugely in the showroom and I am thrilled with the recent renovation.
I took the opportunity to buy the unit next door and move all storage there so we could open up this fantastic space downstairs in the showroom. We now have a really spacious area to show off the amazing brands we have available – all in beautiful settings to give customers lots of interior design inspiration.
Set over two floors, our Canterbury Fireplaces showroom is now over 4,000 square feet and features around 150 stoves, gas and electric fires in working displays in every style, finish and surround available.
It's now one of the largest fireplace showrooms in the UK with customers travelling from throughout the region to see the stoves and fires in action and be able to compare the different options. We also offer a full fitting service right through from design to installation.
We have a massive selection of eco-design ready stoves, something I'm passionate about. Using a modern, clean-burning eco-design ready stove can reduce emissions by up to 90 per cent compared to a traditional open fire, and we always talk customers through the most efficient way to use their fires and the best woods to use.
I'm really excited that the new expansion meant we could bring customers all the very best stoves and fires from across both Britain and Europe. Having such a large display area means that we can showcase them all, and meet the demands of the exclusive brands that I had been wanting for a while. We have some gorgeous stoves on display such as Contura, a really sought-after Swedish brand with tall, contemporary designs and unusual features, like being turnable, with finishes in white aluminium and naturally unique, heat-retaining soapstone. Another brilliant new brand we have is Element 4, a Dutch company producing amazing single and double sided gas fires up to 2.4 metres long – a great option if you're looking for a statement fireplace featuring the very latest technology, including anti-reflective glass, ultra-realistic flames with LED lighting – Element 4 fires are even app controllable!"
We are very proud to be recognised as a Centre of Excellence by PureVision and to be awarded Expert Retailer status by Gazco and Stovax, all British companies who are market leaders in wood-burning stoves and gas and electric fires. I'm dedicated to providing the very best products while also carrying on our heritage of providing the very best expertise, customer care and fitting, so it is fantastic to be recognised in this way.
Even though we are now such a big showroom we've absolutely retained the friendly atmosphere we've always had. We're thrilled that word is spreading and we have customers coming from all over the region after recommendations from friends and family. Retaining that personal service and aftercare we are known for is very important to me – providing a level of service that people are happy to recommend is how Canterbury Fireplaces started in the first place and will always be our ethos.
I'm proud of the story of our business. Having over 30 years heritage means customers can rely on us for the knowledge and expertise they need. It's hugely satisfying to me every time we complete a fireplace installation, each one is so different and I get as excited as our customers about how the perfect fireplace transforms their home.