Having been a family-run business for over thirty years, we have ample history here at Canterbury Fireplaces. Have a read through our story to find out how it all began…
---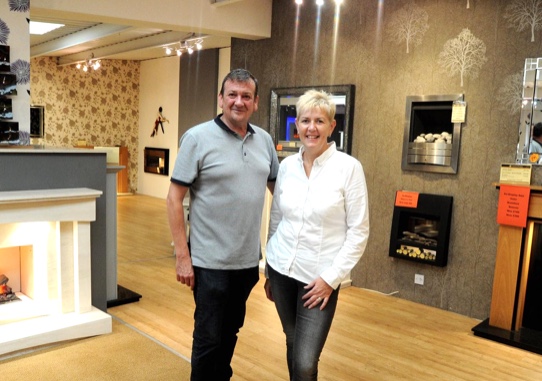 1988
Company Founded
Stonemason Stephen was being asked to build full-length stone fireplaces more and more frequently – he would carve and shape the stone himself to create the ideal finish for the customer, and unsurprisingly they were very happy with the results! As demand grew, Stephen decided to take a risk and purchase a wagonload of stone to craft into fireplaces – a risk that paid off!
---
1989
Regional Finals of Laing's Enterprise Award
Aged 26, Stephen Everett makes it to the regional finals of Laing's Enterprise Award with his Canterbury Fireplaces business plan.
---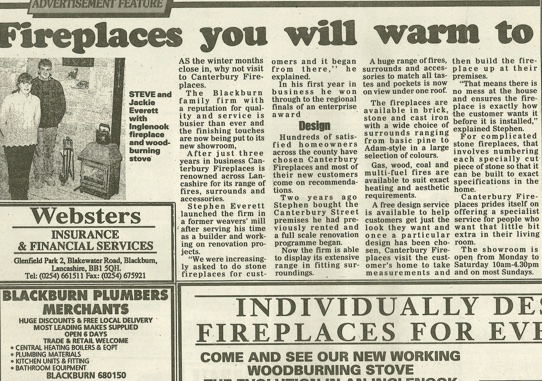 1992
Newly Refurbished Showroom
The newly refurbished showroom opens at flagship store on Canterbury Street, in the heart of Blackburn.
---
2002
Purchased the semi-derelict mill
Stephen and Jackie purchase the semi-derelict mill in front of the showroom and begin work to create a larger centre with more parking, in addition to retail units available to rent. Canterbury Street Mill was constructed in 1865, employing 160 people, but closed for business in 1955… It was now being given a new lease of life!
---
2004
Lucas joins the Business
Stephen and Jackie's son, Lucas, joins the business aged 16 as an apprentice gas engineer.
---
2006
State of the Art Showroom Unveiled
After spending over £300000, Canterbury Fireplaces unveils their new state of the art showroom to the public. With over 100 displays, the company now has one of the largest showrooms in England. The Everett's made use of some of the original features of the old mill whilst renovating, including a cast iron arch, plus original cobles, brick features and even a lamppost!
---
2016
Lucas takes the reigns
After almost 30 years at the helm, Stephen and Jackie step down and Lucas takes the reigns.
---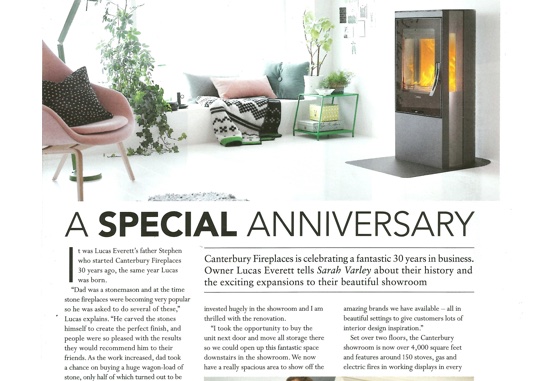 2018
30 Years in Business
Canterbury Fireplaces celebrates thirty years in business, and invests £40k in a new section of the Blackburn showroom, now totaling over 4000 sq. ft and with over 150 fires on show, including a range of gas fires, electric fires, word-burning stoves and more, from top brands such as Contura and Element 4.