what is a
media wall
what is a media wall
---
Media walls first began to become popular in the late-2010s when large flatscreen televisions became widely affordable and available. Rather than using a garish and bulky TV stand, many homeowners instead chose to mount their flatscreen television on the wall above a pre-existing fireplace.
i want one
A trend to get on
board with
---
This trend quickly developed, with homeowners deciding to build a dedicated wall to host their television and fireplace. This trend was accelerated by the fact that many new build homes are not built with traditional fireplaces and chimneys.
The rise of new, efficient, inset electric fires also accelerated this trend. Now, homeowners can build media walls that combine large flatscreen televisions and beautiful inset fireplaces. The results can be incredible.
BE INSPIRED
The possibilities are endless
---
Media walls also offer endless options for customisation. You don't just have to restrict yourself to a television and fireplace. Why not add illuminated alcoves to hold your DVDs or records? Or perhaps corner shelving to store books or other items?
10 minutes exploring Instagram will show you that it's easy to create a media wall that's highly customised to your needs.
BESPOKE DESIGNS
CHECK OUT OUR INSTALLATIONS
---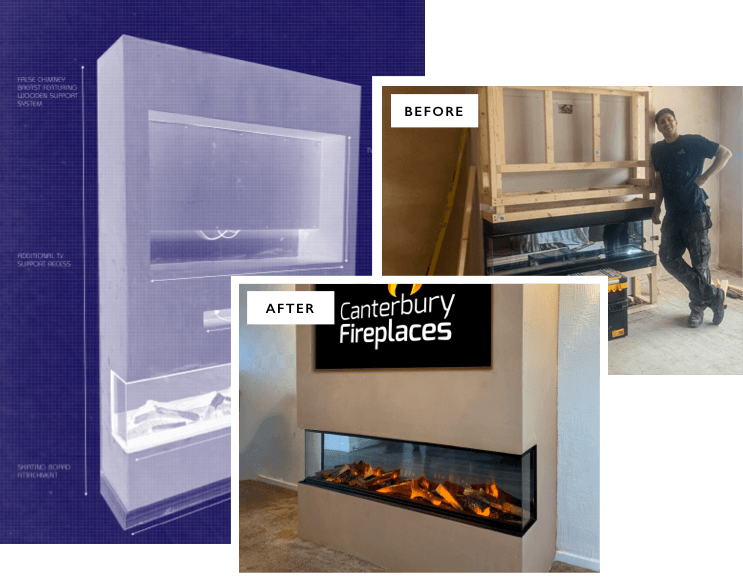 Designed to suit
your room
---
Inset fires are available in a huge variety of designs from traditional to contemporary.
When selecting your fire, be careful not to consider its design in isolation. How will it compliment your television (and other media wall features)? To achieve a media wall with a cohesive look and feel, think about design elements.
Let us find the right fire for you
Visit our showroom or book a consultation with our fireplace experts today. We'll talk through your requirements, including your preferred style and budget and find you the fire that's right for you!